Dear Friend,
We sincerely hope you and your families are staying safe and that your organizations are doing well! This issue takes a look at disaster preparation and response, as well as some basic safety issues you'll face as the weather warms up.
I hope you enjoy this issue of Good Steward. Email me with any feedback or questions you may have, and feel free to forward this publication to others who may benefit from it.
Happy reading!

Steve Follos
Vice President and General Manager
The Church Insurance Agency Corporation
Emergency Kits and Go-Bags: Prepare Your Community
Every religious organization should prepare for the possibility of disaster by taking these three steps and gathering these items.
Get prepared.
Read More
FMLA: What Religious Organizations Need to Know
The Family and Medical Leave Act (FMLA) can be confusing. That's why it's important to get informed, then be consistent and transparent in your administration.
Find out more.
Read More
Bishop Greg Rickel: Church Pension Group Trustee
Eighth and current Bishop to the Episcopal Diocese of Olympia, Gregory Rickel, talks about the rewards and challenges of serving.
Get to know Bishop Rickel.
Read More
From the Claims Desk: Warm Weather Equipment Use Training
Before you hand over the key to the storage shed, do a training session so volunteers understand the limits and dangers of the equipment they'll be using.
Err on the side of caution.
Read More
---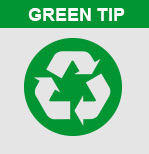 Green Tip: Encourage parishioners to BYOB.
Water bottle, that is. Instead of using bottled water, ask volunteers to bring their own reusable bottles that can be filled from a tap or fountain.
---
SUBSCRIBE
Want More?
Want news, tips and advice on protecting your church's people and property? Sign up below to receive The Good Steward, our free e-newsletter.
The Good Steward 1 is an e-newsletter for anyone involved in protecting their church, its people and its property. Each issue features articles and tips on how to reduce the risk of and address problems.