Nutrition Nuggets for Your Next Meal
by Krishna Dholakia, MS, RD, CDE, CDN
In Christianity and other faith traditions, hospitality is an important way of showing love and care to others. Both in your personal life and in your position in the Episcopal Church, you may frequently participate in celebrations, pastoral situations, Sunday morning coffee hours, and other occasions where food is an integral part of the gathering.
The act of nourishing ourselves is a beautiful thing. Food not only satisfies us physically, but emotionally and spiritually as well. We use food and eating as a way to socialize, form and strengthen bonds with family and friends, make events more celebratory, and fuel us for activities and everyday life. Nonetheless, such situations that include food can make it hard to eat healthy consistently.
Help is just click away.
"Your Next Meal" is CPG's new nutrition eLearning course. It is an interactive and personal way to learn about establishing healthy eating habits. The course is designed to address some of the food-related challenges that clergy and lay employees may experience, and is designed to be used at a pace that feels comfortable to you. The course covers the following topics:
Community and social influences on eating
Cravings and emotional eating
Meal planning
Nutrition nuts and bolts: Taking a deeper dive into learning about nutrition
Suggestions on how to get started
Nutrition resources
Start Your Next Meal today, and begin making the improvements you've always wanted.
Click here for clergy, and click here if you're a lay employee.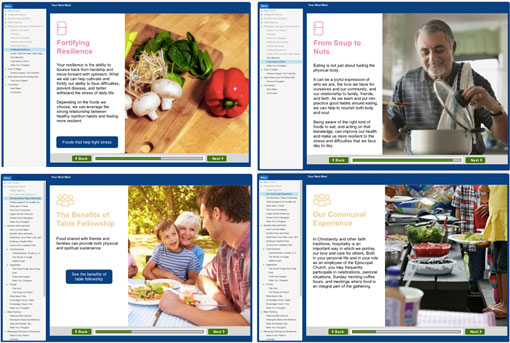 Krishna Dholakia serves as the Senior Health Education Specialist in the Education & Wellness department at CPG. She is a registered dietitian and a 500-hour certified yoga instructor.