Chair Exercises for Your Summer Travels
by Krishna Dholakia, MS, RD, CDE, CDN
Summer is around the corner and it's a great time for vacations and adventures. Whether you choose to travel by plane, train, or car, you may spend a lot of time sitting. Here are some tips and activities that can help you reduce back pain, decrease body stiffness, and improve circulation:
On a train or plane, regardless of the seat you choose, get up periodically and walk up and down the aisle. Walking improves circulation, clears your mind, and gives you the opportunity to get your muscles and joints moving. It also relieves back pain.
Neck rolls and stretches can help you relieve the common stiffness and tension experienced from prolonged sitting and heavy lifting of luggage. Tip your head to one side and hold the stretch for 10 to 20 seconds. Then repeat to the opposite side. Life your gaze up and then down to stretch the front of the throat and the back of the neck.
If you're sitting in a plane, train, or the passenger seat of a car, try ankle circles and pumps—if you have room, straightening your legs. Be sure to move and stretch your lower body every 45 minutes to improve blood circulation.
Here are more seated exercises you can do as a passenger: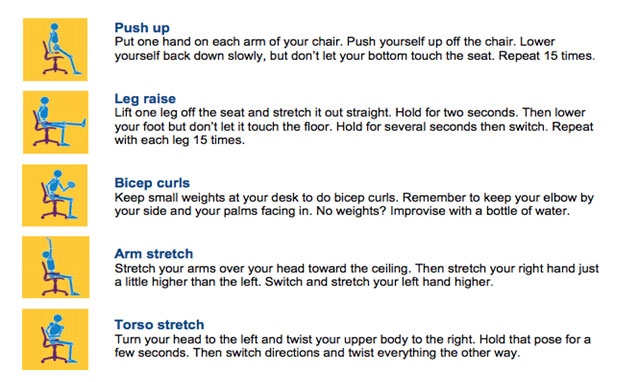 Image from Cigna EAP's "Staying Active at Work"
Learn more exercises that allow you to be more active at work. Also visit the nutrition and physical activity module that is part of CPG's resilience course in the eLearning Library.
Krishna Dholakia is the Senior Health Education Specialist on CPG's Education & Wellness team. She is a registered dietitian and a 500-hour certified yoga instructor.