The Church Pension Group Supports The Episcopal Branch of the Jesus Movement
The work of CPG is aligned with the three pillars of The Jesus Movement—evangelism, racial reconciliation, and environmental stewardship.
Evangelism
CPG exists to support clergy and lay employees in their calling to spread the Gospel. We do this by providing financial products and services that help provide financial security in retirement. We support evangelism by providing peace of mind so clergy and lay employees can focus on their ministries. As the denominational publisher of The Episcopal Church, Church Publishing, Inc., publishes books and music that support evangelism around the Church. Please visit ChurchPublishing.org to view the variety of publications related to The Jesus Movement.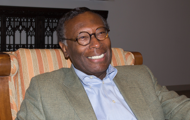 Delbert Glover, Ph.D., who serves as chair of the Audit Committee and sits on the Finance Committee of the CPF Board, put it best: "The Church Pension Fund exists to serve The Episcopal Church; it has no other reason for being. Our primary responsibility is to our constituencies—our churches and clergy and lay staff. We are 'of and for' the Church; we have no other reason to exist. No matter the challenges before us, The Church Pension Fund remains committed to outstanding service to the Church."
Racial Reconciliation
Like many institutions, CPG recognizes the impact of racism on our society and has grappled with the best ways to discuss it. Inspired by Bishop Curry's challenge to pursue race reconciliation, we are starting to have open conversations about race at all levels in our organization. "Understanding the impact of racism in the lives of the people we serve will help us better serve the Church," explains Mary Kate Wold, CEO and President of CPG.
CPG was honored to host Dr. Catherine Meeks at its semi-annual all-employee gathering last month. Dr. Meeks challenged us to consider the internal mindsets that form our negative opinions of "the other" and to be courageous enough to share our own personal stories about race and ethnicity. Her remarks inspired a lively exchange during the event and sparked wonderful conversations around our workplace afterwards, which is progress toward reconciliation. (Please read the article on Dr. Meeks in this issue of Perspective.)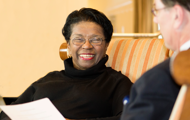 At the same time, The Church Pension Fund Board of Trustees (CPF Board) is actively engaged in discussions about race and the impact of racism on our society to broaden the perspective they bring to their work. Diane Pollard, a longstanding member of the CPF Board, reflects: "As a Trustee of The Church Pension Fund for many years, I have been pleased to see the journey that CPF has taken in participating in General Convention mandates as they relate to anti-racism training for the CPF Board. This triennium we have been participating in the Church's study of the issues of reconciliation and repentance. This study, called for in Becoming Beloved Community, is difficult but needed work for all Episcopal Church organizations. In addition to the continuing anti-racism work of our CPF Board, a group of trustees meet to discuss notable books on the topic. The topic of reconciliation requires an ongoing commitment, and I am pleased to say the CPF Board is devoting time and study to this very important topic. CPG employees and clients will benefit."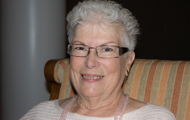 According to Barbara Creed, Esq., Chair of the CPF Board: "A few of us started with Between the World and Me, by Ta'Nehisi Coates, and The New Jim Crow, by Michelle Alexander, and later added several new titles. We discuss these books at small group dinners among board members. Each book and discussion has challenged us and brought us closer together. We have a deeper understanding of the role of race in our society, and this informs our work as trustees." CPG and the CPF Board are engaged in race reconciliation work. We are pleased to see so many institutions taking up the challenge of reconciliation and doing the work to become God's Beloved Community.
Environmental Stewardship
Our commitment to environmental stewardship is found throughout CPG. Our home office in New York City was renovated using sustainable materials and is LEED Gold-certified (LEED stands for Leadership in Energy and Environmental Design). We have implemented environmentally sustainable practices in the daily operations of our office, resulting in less energy use, gas emissions, and waste. On the investment front, we have more than $150 million of invested or committed capital in "green" investments that support sustainability. In addition, we use our position as a large institutional shareholder to engage companies on environmental issues like use of fossil fuels. We look to promote productive dialogue and, if necessary, file shareholder resolutions to encourage these companies to conduct their businesses in a manner that addresses environmental concerns held by CPG and The Episcopal Church.
For decades we have collaborated with the Committee on Corporate Social Responsibility of the Executive Council of The Episcopal Church and The Domestic and Foreign Missionary Society, as well as with other faith-based organizations and investors, to discuss our shared concerns and develop strategies for addressing those concerns. We are also members of various investor groups, including the Interfaith Center on Corporate Responsibility and the Ceres Investor Network on Climate Risk and Sustainability and coordinate our shareholder engagement efforts with other investors having similar interests.
Finally, Church Publishing's commitment to spreading the word is reflected in its various publications focused on environmental stewardship, such as To Serve and Guard the Earth, by Beth Bojarski. This book offers readers a greater understanding of the scriptural accounts of creation and the environmental problems facing us today, and it encourages the reader to make practical applications to change their everyday lives and enhance important environmental values.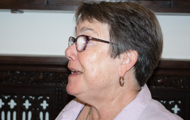 The Right Reverend Dr. Diane Jardine Bruce, a CPF Board member, comments: "When talking about environmental sustainability, I am often asked about divestment. The issue of divestment is a complicated one—and one that the CPF Board and CPG have spoken about repeatedly and understand. Akin to this are investing for positive impact and shareholder engagement, which the CPF Board takes seriously and CPG management has worked hard to address and advance. I'm so proud of our accomplishments in this regard. At the heart of all we do—and what drives our work—is our fiduciary responsibility to participants and beneficiaries of our pension and other benefit plans, both current and future; there must be sufficient funds to care for them. We believe positive impact investing combined with shareholder engagement and thought leadership are the best ways to accomplish that. We've done this for 100 years, and I pray our work helps us continue for another 100-plus years!"