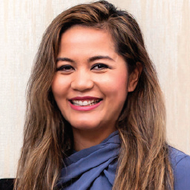 Candice Dial
Associate, Investments
2016 Annual Report
The 2016 Church Pension Group (CPG) Annual Report provides an overview of our investment performance, highlights important corporate initiatives, and features profiles of employees such as Candice Dial, an Associate in our Investments Group, who are helping CPG prepare for the future.
Candice came to CPG from a for-profit financial institution. She joined CPG because she wanted to use her talents to do more than make a profit — she wanted to make a difference. Candice was hired as the first employee to be fully dedicated to socially responsible investing (SRI). Learn more about Candice's story and view our entire 2016 Annual Report.
Please note that this summary is provided to you for informational purposes only and should not be viewed as investment, tax, or other advice. In the event of a conflict between the information contained in this summary and the official plan documents, the plan documents will govern. The Church Pension Fund and its affiliates retain the right to amend, terminate, or modify the terms of any benefit plans described in this document at any time, without notice, and for any reason. Unless otherwise noted, websites referenced herein that are outside the www.cpg.org domain are not associated with The Church Pension Fund and its affiliates (collectively, the "Church Pension Group") and the Church Pension Group is not responsible for the content of any such website.