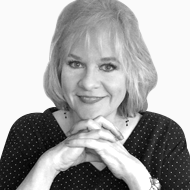 A Commitment to Serve: Barbara Kain
Our Client Services team members are often the first voices clients hear when they contact the Church Pension Group (CPG). Sometimes their inquiries are simple: How do I add my newborn daughter to my health plan? In other cases, the questions might be quite complicated. The Client Services team is well versed in CPG's products and plans, and it seeks to provide answers to those in need of assistance quickly, professionally, and compassionately.
Barbara Kain, a Senior Client Services Representative, recently handled a query from a bi-vocational priest with a complex situation. He was preparing to retire from a secular position. Additionally, he had done part-time supply work in parishes. He wanted to know how retirement from the non-church position would affect his status with The Church Pension Fund Clergy Pension Plan (Clergy Pension Plan).
"I was very happy to be able to help him understand the details of the Clergy Pension Plan," Barbara said. "I assured him that because he is vested in the Clergy Pension Plan through his part-time parish work, he will have access to his pension when he retires from the Church or turns 72."
The priest also had questions about Medicare and post-retirement health benefits for himself and his wife.
"We had an extensive discussion about Medicare and the supplement options," Barbara added. "I used to work for Medicare for 20 years, so that's in my wheelhouse. I gave him an overview of the Medicare supplement subsidy that The Church Pension Fund currently provides, and I reassured him that his Medicare supplement eligibility would not change if he relocated out of state."
This is just one example of our commitment to serve. CPG exists to support Episcopal Church clergy and lay employees as they fulfill their calling to spread the Gospel. Fulfilling our century-old commitment of serving those who have served the Church would not be possible without the professionalism and compassion of employees like Barbara. To read more stories about our commitment to serve, please view our 2016 Annual Report, which can be found at www.cpg.org/annualreport.
Please note that this summary is provided to you for informational purposes only and should not be viewed as investment, tax, or other advice. In the event of a conflict between the information contained in this summary and the official plan documents, the plan documents will govern. The Church Pension Fund and its affiliates retain the right to amend, terminate, or modify the terms of any benefit plans described in this document at any time, without notice, and for any reason. Unless otherwise noted, websites referenced herein that are outside the www.cpg.org domain are not associated with The Church Pension Fund and its affiliates (collectively, the "Church Pension Group") and the Church Pension Group is not responsible for the content of any such website.