Perspective
Fall 2016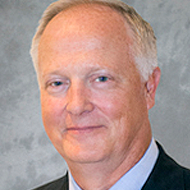 Bill Murray
SVP, General Manager
The Church Insurance Companies
Meet The Church Insurance Companies' New General Manager Bill Murray
Bill Murray joined The Church Insurance Companies (CIC) in early September as General Manager and Senior Vice President. View the press release here. Perspective recently spoke with Bill about his career and his role at CIC.
Why did you choose to join the Church Pension Group (CPG)?
I felt CPG was a company where I could make a meaningful contribution. The CIC team is very professional and friendly, and I love a good challenge. Life is short: You should work at a job where you are intellectually challenged and where there is a team environment. I plan to work closely with my team. More importantly, I will keep an open mind and will always be thinking of ways to improve the way we work.
How did your background prepare you for your work at The Church Insurance Companies?
I have spent longer than I am willing to admit working in the property and casualty insurance world. There is almost no line of insurance business in which I have not had experience. Most recently, I oversaw underwriting at Houston Casualty Company.
What did you learn as Lieutenant Commander in the United States Navy and as a Lance Corporal in the United States Marine Corps that helped you in your career?
People came from all walks of life in the military. Unlike the civilian world, you did not pick your place of business or employees. You had to learn how to motivate sailors in some trying circumstances. If you get your hands dirty trying to get something done, the folks around you will normally want to be a part of it.
What do you like to read, and what book has influenced you either personally or professionally?
Normally I read non-fiction, either technical or business related. Recently I've been reading the works of the economist Milton Friedman. Also, if you haven't read it, try Moneyball by Michael Lewis. Even if baseball bores you, it is a good management read.
What do you enjoy doing when you are away from the office?
I enjoy flying. I have my pilot's license and an instrument rating. I also enjoy woodworking. That said, I'm neither Chuck Yeager nor Norm Abrams. What those guys can do is pretty humbling. More important are my wife and three grown children.
Please note that this summary is provided to you for informational purposes only and should not be viewed as investment, tax, or other advice. In the event of a conflict between the information contained in this summary and the official plan documents, the plan documents will govern. The Church Pension Fund and its affiliates retain the right to amend, terminate, or modify the terms of any benefit plans described in this document at any time, without notice, and for any reason. Unless otherwise noted, websites referenced herein that are outside the www.cpg.org domain are not associated with The Church Pension Fund and its affiliates (collectively, the "Church Pension Group") and the Church Pension Group is not responsible for the content of any such website.