Perspective
Fall 2016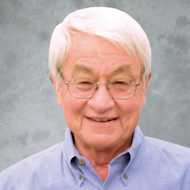 Rod Webster
SVP, General Manager
The Church Insurance Companies
Rod Webster, General Manager of The Church Insurance Companies, to Retire
After 20 years of dedicated service, Rod Webster, Senior Vice President of The Church Insurance Companies (CIC), plans to retire in the first quarter of 2017.
Before joining CIC, Rod was actually a client. He was a warden of his church when it suffered a loss and subsequently worked with CIC on the claim. He was so impressed by the CIC claim staff that he came to the Church Pension Group (CPG) offices to thank them personally. In the process, he met his predecessor, who offered him a job a few weeks later.
Under Rod's leadership, CIC has undergone two transformations that have helped improve its service to the Church. The first was a legal and regulatory effort to create two captive insurance companies to significantly lower the cost of insurance for Episcopal churches and to allow CIC to offer the same coverage to clients across the country.
The second change was a work-from-home program. Starting in 2001, The Church Insurance Company Agency Corporation (CIAC) began to transition from small, regional offices to home-based offices. CIAC was the first CPG business to embrace working from home at a time when the practice was relatively new.
"It turned out to be a huge benefit. It meant we could hire the best people across the country," Rod said. "It helped us raise the bar on the quality of service and proved to be a win-win for CIAC and our clients."
Rod said he is proud of the fact that today 90% of Episcopal dioceses and churches are our clients. "We think our high market share is due in large part to our deep relationships, tailored hands-on approach, and better products than what are available in the market place," Rod said. "We specifically design our policies for the Church and offer many product features that it cannot find anywhere else."
After CPG, Rod plans to retire to his horse farm in central New Jersey. He expects to remain active in his church and will help his daughter start a small business. Given his focus on client needs, his daughter's customers are likely to receive outstanding service!
Recently, Bill Murray joined CPG as Senior Vice President and General Manager of CIC and will succeed Rod when he retires. You can read a Q&A with Bill here.
Please note that this summary is provided to you for informational purposes only and should not be viewed as investment, tax, or other advice. In the event of a conflict between the information contained in this summary and the official plan documents, the plan documents will govern. The Church Pension Fund and its affiliates retain the right to amend, terminate, or modify the terms of any benefit plans described in this document at any time, without notice, and for any reason. Unless otherwise noted, websites referenced herein that are outside the www.cpg.org domain are not associated with The Church Pension Fund and its affiliates (collectively, the "Church Pension Group") and the Church Pension Group is not responsible for the content of any such website.