Perspective
Spring 2016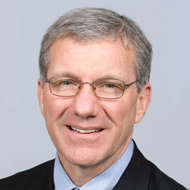 Jim Morrison, Former Chief Operating Officer, Retires
Healthy organizations plan for the retirement of key executives, and some shoes are hard to fill. That is the case with Jim Morrison, the Church Pension Group's (CPG) former Chief Operating Officer (COO), who, after an extraordinary 15-year career with CPG, retired in April.
Specializing in benefits delivery, Jim joined CPG on May 1, 2001. Under his leadership, CPG implemented the Denominational Health Plan and the Lay Pension System.
Jim was instrumental in expanding the services of The Church Insurance Agency Company to assist the United Methodist's insurance company in providing property & casualty protection for its churches, while helping to keep costs down for Episcopal churches.
Jim also helped to transform CPG through the development of a new client service model that has helped CPG operate more efficiently and provide the best possible service to our clients.
What's next for Jim? In addition to rides on his motorcycle, he plans to move from New York City to Texas to be closer to his grandchildren. He also plans to travel and help his daughter grow her small business. Given what we have come to expect from Jim after these past 15 years, his daughter's customers are sure to receive outstanding service.
Frank Armstrong, former Senior Vice President in charge of benefits policy, has been appointed to succeed Jim as COO. In the several months leading up to Jim's retirement, Frank and Jim collaborated on all aspects of our benefits and property & casualty businesses. As you can read in the Q&A with Frank, he has a long history with CPG and its clients, deep expertise in health benefits and risk management across benefits, and a personal commitment to service that make him the perfect choice in our succession planning. Be sure to read our Q&A with our new COO here.
Please note that this summary is provided to you for informational purposes only and should not be viewed as investment, tax, or other advice. In the event of a conflict between the information contained in this summary and the official plan documents, the plan documents will govern. The Church Pension Fund and its affiliates retain the right to amend, terminate, or modify the terms of any benefit plans described in this document at any time, without notice, and for any reason. Unless otherwise noted, websites referenced herein that are outside the www.cpg.org domain are not associated with The Church Pension Fund and its affiliates (collectively, the "Church Pension Group") and the Church Pension Group is not responsible for the content of any such website.