Perspective
Spring 2016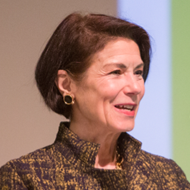 Mary Kate Wold
CEO and President
Envisioning Our Future
In 2017, The Church Pension Fund (CPF) will mark its 100th year of service to The Episcopal Church. As we reflect on this long history, we are thinking of ways to build upon it so that we can support the Church as it prepares for the future. We are doing this through a number of projects and with the help of others facing similar challenges and opportunities.
Through research and a variety of listening events we have hosted around the Church, we are deepening our understanding of the challenges faced by those we serve. In the near term, we are critically evaluating many of the products and services we offer to make sure they are structured to meet present and future needs. Taking advantage of insights gained from our listening events, we are revising The Church Pension Fund Clergy Pension Plan (the Clergy Pension Plan) to respond to changing ministries, updating our education and wellness programs, and refining the health benefits offered by The Episcopal Church Medical Trust to reflect the changing healthcare landscape.
Looking further ahead, we have embarked on a 10-year strategic visioning process that will provide insight into the capabilities we can best leverage to address the evolving needs of existing and potential stakeholders around the Church. Over the months ahead, I will continue to keep you informed of our efforts to extend our service to the Church into the future as a forward thinking and supportive fiduciary of the assets entrusted to us over the past century.
In this issue of Perspective, you will find articles focused on the financial strength of The Church Pension Fund, our efforts to support health and financial stability for those we serve, proposed revisions to the Clergy Pension Plan, our commitment to socially responsible investing, our new chief operating officer, and more. I hope you find it informative and I would welcome your feedback.
Faithfully,
Mary Kate Wold
CEO and President
Please note that this summary is provided to you for informational purposes only and should not be viewed as investment, tax, or other advice. In the event of a conflict between the information contained in this summary and the official plan documents, the plan documents will govern. The Church Pension Fund and its affiliates retain the right to amend, terminate, or modify the terms of any benefit plans described in this document at any time, without notice, and for any reason. Unless otherwise noted, websites referenced herein that are outside the www.cpg.org domain are not associated with The Church Pension Fund and its affiliates (collectively, the "Church Pension Group") and the Church Pension Group is not responsible for the content of any such website.