Perspective
Spring 2016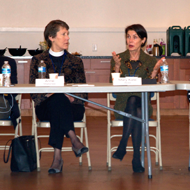 Research Supports Clergy Pension Plan Revisions
The Church Pension Fund's (CPF) collaborative, multi-year initiative to revise The Church Pension Fund Clergy Pension Plan (the Clergy Pension Plan) continues to progress. The project's primary goal is to offer a more flexible Clergy Pension Plan that addresses the needs of a changing Church, while ensuring that CPF remains financially sustainable and that the value of the benefits provided to clergy is maintained. We also intend to make the plan easier to administer and understand. This work will help ensure the Clergy Pension Plan continues to provide meaningful retirement benefits to a broad range of participants, including eligible part-time and interim clergy and those who experience longer breaks in service.
The Clergy Pension Plan revision project is coming to the end of the development phase, following a series of listening events that began in 2014. Over the past year alone, we have hosted more than 20 events to solicit input from bishops, clergy, and lay leaders, including diocesan administrators, wardens, and treasurers.
In addition to hosting listening events, we have conducted a survey of deployment patterns among nearly 2,000 clergy in order to deepen our understanding of clergy career paths. We have had a very strong response to the survey, and our Research Team currently is analyzing the results.
I want to thank all of those who participated in various listening events and research efforts. Input from the Church has provided invaluable feedback on future revisions.
Editor's note: This article is the first in an ongoing series about revisions to the Clergy Pension Plan.
Please note that this summary is provided to you for informational purposes only and should not be viewed as investment, tax, or other advice. In the event of a conflict between the information contained in this summary and the official plan documents, the plan documents will govern. The Church Pension Fund and its affiliates retain the right to amend, terminate, or modify the terms of any benefit plans described in this document at any time, without notice, and for any reason. Unless otherwise noted, websites referenced herein that are outside the www.cpg.org domain are not associated with The Church Pension Fund and its affiliates (collectively, the "Church Pension Group") and the Church Pension Group is not responsible for the content of any such website.