Perspective
Spring 2016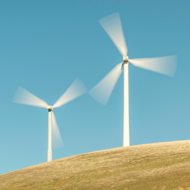 Socially Responsible Investing Roundtable Discussion
The Church Pension Fund has been committed to Socially Responsible Investing (SRI) for more than 40 years. Our strategy has focused on investment opportunities that promote environmental sustainability, assist underserved communities, and increase diversity.
Today we have more than $900 million in socially responsible investments and have commitments to invest nearly $250 million over the next few years. Since 2000, we have realized proceeds of approximately $1.2 billion from our SRI-related activities.
As part of our ongoing commitment to support SRI, our Investment team recently hosted an SRI roundtable with Equilibrium Capital, a global asset manager focused on sustainability-driven real asset strategies, funds, and products. The roundtable brought together more than 30 individuals from various investment firms, pension funds, faith-based organizations, consulting agencies, research institutes, and family foundations to share ideas and discuss the opportunities and challenges around SRI.
"We were excited to bring this group together to discuss the important topic of socially responsible investing," said Alan Snoddy, a Managing Director in the Church Pension Group's Investments Group. "This roundtable offered us the opportunity to discuss the current SRI environment with many like-minded organizations. In taking the lead in bringing together this group of investors, we were able to further build our SRI network, exchange ideas, and collaborate with other denominations and endowments that are as committed to SRI as we are."
David Chen, CEO of Equilibrium Capital, described the roundtable as "a reflection of the shift in thinking that is taking place in institutional portfolios around investing in sustainability. We had a lively discussion where many participants pointed to the importance of governance, transparency, and consistency in the execution of these sustainable investment strategies."
Please note that this summary is provided to you for informational purposes only and should not be viewed as investment, tax, or other advice. In the event of a conflict between the information contained in this summary and the official plan documents, the plan documents will govern. The Church Pension Fund and its affiliates retain the right to amend, terminate, or modify the terms of any benefit plans described in this document at any time, without notice, and for any reason. Unless otherwise noted, websites referenced herein that are outside the www.cpg.org domain are not associated with The Church Pension Fund and its affiliates (collectively, the "Church Pension Group") and the Church Pension Group is not responsible for the content of any such website.