Protective Life?
A Shared Commitment to Quality and Service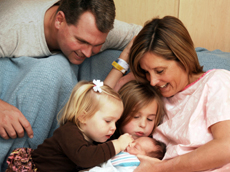 Established in 1907, Protective Life was founded on the same principles of caring and service we hold at Church Life. Like us, they truly believe in doing the right thing for those they serve.
As of March 1, 2010, Protective Life began issuing the individual life insurance policies provided through Church Life Insurance Corporation. Protective Life is one of the nation's leading insurance companies, with high ratings from independent rating agencies. View Protective Life's current ratings.
All Protective Life policies come with the commitment to provide quality, caring service, and competitive rates. That commitment resonates with us, too. That's why we're especially pleased to be working together to meet the needs of the Church's clergy, lay employees, volunteers, and their families.
Why Protective Life?
We've chosen Protective Life as our partner to make innovative life insurance products available to you at affordable rates.
The Protective Life Mission
Protective Life provides financial security through insurance and investment products. Our purpose is to enhance the quality of life of our customers, our shareowners, and our people. We hold to three preeminent values—quality, serving people, and growth — which by tradition and choice transcend all others. They are the foundation of our aspirations, our plans, our best energies, and our life together in this company.
Life insurance and annuities are offered by or through Church Life Insurance Corporation, 19 East 34th Street, New York, NY 10016.
Unless otherwise noted, websites referenced herein that are outside the www.cpg.org domain are not associated with The Church Pension Fund and its affiliates (collectively, the Church Pension Group) and the Church Pension Group is not responsible for the content of any such websites.