Church Pension Group | Identify Your Vision
Course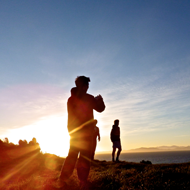 Visioning: Seeing Your Way to Wellness
How to Use Visioning to Create a Healthier Tomorrow
About This Course
Visioning is oftentimes used as the first step in a health or financial wellness plan. What comes to mind when you ask yourself:
What do I most want to achieve?
What are my hopes for the future?
How do I see myself spending my time?
Where are the places I feel out-of-balance?
Exploring open-ended questions is just one of the practice opportunities you'll find as you begin crafting your vision for personal well-being.
In this short, interactive course, you'll find multiple avenues for beginning your visioning process, including audio meditations and visualization exercises. This is not daydreaming; you'll focus on what means the most to you in your life and how you envision your tomorrows. You may hone the visioning skills you already have or learn from scratch about how visioning may help you move forward.
Duration
Approximately 20 minutes
Instructors Include
Ardelle Walters, LPC
Dr. Jody Horstman, Ph.D.
Additional Details
Identify Your Vision
The Greek definition of vision is "inspired insight." Visioning is listening to your authentic dreams — what matters most to you — and picturing the future you living into those dreams. Visioning allows you to explore your aspirations with openness and attention, approaching your future with a mindset of possibility.
Your vision provides a guiding theme for your life. It is a long-term picture that helps establish your priorities for making short-term decisions.
Why Vision?
Perhaps you are familiar with dream catchers. You can think of visioning as an interactive way to clarify and capture your hopes and dreams. As you intentionally focus on your dreams and aspirations, you are beginning the process of visioning. Taking a step further and intentionally creating a vision for wellness can enhance your motivation, illuminate your aspirations, and increase your ability to work purposefully toward wellness goals. The process is not hard or time-consuming. Rather, it's time well spent on personal awareness and fortifying your drive for better health.
What's next?
Already explored your vision? You're ready to set Attainable Goals. Read about setting the right kind of goals and defining a successful course of action.
And remember, when life doesn't go quite according to plan, your vision can provide direction. Celebrate the progress you do make and use your personal vision to stay on course.