About Church Pension Fund's CEO and President
Mary Kate Wold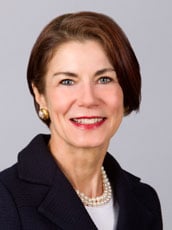 Mary Kate Wold serves as the CEO and President and board member of the Church Pension Group (CPG), a pension and financial services company that serves The Episcopal Church. She has held leadership positions in the financial services, pharmaceutical and healthcare, legal, and government sectors, including serving on the boards of numerous organizations.
Prior to joining CPG, Ms. Wold was Senior Vice President, Finance, and a Principal Corporate Officer of Wyeth, one of the world's largest research-based pharmaceutical companies, where she provided direction across a spectrum of Wyeth's business and finance operations. Before Wyeth, she was a partner and chaired the tax practice group of Shearman & Sterling, one of the world's leading law firms, advising global clients on cross-border mergers and acquisitions and capital markets transactions. Earlier in her career, she served in the United States Department of the Treasury as a member of the Office of International Tax Counsel, where she negotiated the first income tax treaty between the United States and China.
Ms. Wold has served on numerous boards of both for-profit and non-profit organizations. She is currently a board member of Nucleus RadioPharma, Inc., a company modernizing the production of radiopharmaceuticals for cancer patients. She also sits on the board of The Jackson Laboratory, a biomedical research institution dedicated to the discovery of genomic solutions to cancer and other human diseases, and she is a board member of the Burke Neurological Institute, an academic and neurological research organization affiliated with Weill Cornell Medicine.
She serves on the vestry of Trinity Church Wall Street in New York City and on its investment committee. She is the former chair of the Church Benefits Association, a national industry association of faith-based benefits organizations, and is a former director and chair of a publicly traded medical-device company. Her professional affiliations include membership in the Women's Forum of New York and Women Corporate Directors.
A native of North Dakota, Ms. Wold attended Hamline University in St. Paul, Minnesota, from which she graduated summa cum laude and was elected a member of Phi Beta Kappa. She graduated cum laude from the University of Michigan Law School. She holds an honorary degree of Doctor of Humane Letters from the Berkeley Divinity School at Yale University.