Perspective
Spring 2016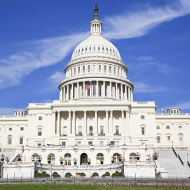 Church Benefits Association and Church Alliance Deliver For CPG
Earlier this year, I was elected chairperson of the Church Benefits Association (CBA), the leading industry association of church pension boards, religious orders, and denominational benefit programs for clergy and church professionals. One of the benefits of CBA membership is its relationship with the Church Alliance, a coalition of chief executive officers of 37 denominational benefit programs that has advocated for church plans for more than 40 years.
From its beginning, the Church Alliance has worked to raise awareness among Congress and regulatory agencies about the uniqueness of church benefit plans and to promote rulemaking that eases regulatory compliance for such plans. Over the years, the Church Alliance has been involved with numerous pieces of legislation (and legislative proposals) that directly impact church benefit plans and programs.
The Church Pension Fund's retirement plans received an important boost in December 2015, when Congress passed the Protecting Americans from Tax Hikes Act (the PATH Act), a long-sought legislative win for the Church Alliance. The PATH Act incorporates the Church Plan Clarification Act, which clarifies the application of certain tax and retirement laws and regulations to the unique structures of church pension plans.
In 2016, the Church Alliance is working to amend existing legislation that would extend premium tax credits available under the Affordable Care Act (ACA) to people participating in church health plans. If this legislation were to pass, it would help restore parity with institutions offering benefits under the ACA and would benefit eligible members of The Episcopal Church Medical Trust.
We are pleased to be in a leadership role among the more than three dozen denominational benefits boards nationwide that look to the Church Alliance to represent our interests with the nation's lawmakers.
Please note that this summary is provided to you for informational purposes only and should not be viewed as investment, tax, or other advice. In the event of a conflict between the information contained in this summary and the official plan documents, the plan documents will govern. The Church Pension Fund and its affiliates retain the right to amend, terminate, or modify the terms of any benefit plans described in this document at any time, without notice, and for any reason. Unless otherwise noted, websites referenced herein that are outside the www.cpg.org domain are not associated with The Church Pension Fund and its affiliates (collectively, the "Church Pension Group") and the Church Pension Group is not responsible for the content of any such website.