Church Pension Group | Dr. Matthew Price
Dr. Matthew Price
Matthew Price serves as Senior Vice President for Research and Data at the Church Pension Group (CPG). In addition to serving as the Recorder of Ordinations, he is responsible for collecting insights that help inform CPG's decisions around major policy initiatives in the area of retirement benefits and also has involvement in technical system launches and integrations. He joined CPG in June 2001 as its director of analytical research.

Prior to joining CPG, he was Associate Director, Duke Pastoral Leadership Project, at the J. Ormond Center of the Duke University Divinity School. Previously, he was a Research Associate with the Religion in Urban America Program at the University of Illinois, at Chicago. His background also includes teaching positions at Duke, North Carolina State, and the University of Illinois at Chicago.

He received a BA in sociology from the London School of Economics, an MA in history from the University of Sussex, and a PhD in sociology from Princeton.
More from Dr. Matthew Price
---
Dr. Matthew Price
In this video Dr. Matthew Price discusses
CPG's foundations in research and data
Realigning CPG's products and services with the realities of the clergy today
Lay Retirement Readiness Webinar
Insights from CPG research on Episcopal church lay employee retirement readiness and listening to concerns from around the Church.
Replay this Webinar

Insights & Ideas
Five Trends of a Changing Episcopal Church
The major demographic trends CPG Research & Data has identified in The Episcopal Church today
Podcast
---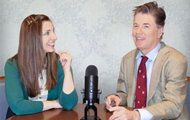 Clergy Deployment Trends: Adapting to a New Reality
CPG's Research & Data Department conducts and commissions research to better understand issues facing our clergy and The Episcopal Church.