Medicare Supplement Summary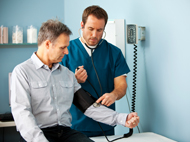 Although Medicare Part A and Part B provide coverage for medically necessary health services, you may wish to enhance that health insurance with a Medicare Supplement Health Plan. The Episcopal Church Medical Trust Medicare Supplement Health Plans help eligible retirees pay many out-of-pocket expenses, such as copayments, coinsurances, and deductibles. The plans also pay for some services not covered under Medicare.
We offer three Medicare Supplement Health Plans:
These plans are also available without prescription drug coverage for eligible retirees who enroll directly with Medicare for Part D prescription coverage.
All Medicare Supplement Health Plans include, at no additional cost to you:
In addition, we offer three dental plans.
You can read detailed information about each supplement plan here:
To learn more about Medicare, download Medicare & You or visit the Medicare website.
Are you under age 65?
Retirees under age 65 who qualify under the Medical Trust's eligibility rules* can continue their active healthcare coverage at their own expense until they turn age 65 and are eligible for Medicare.
If your former employer participates with the Medical Trust and you meet the eligibility rules, you have access to the health and dental plans offered by your former employer at the same group rates.
For plan and enrollment information, click here.
* Check with your group or diocesan administrator for eligibility requirements, or to inquire if your former group or employer contributes to the cost of their retirees' premiums.
Health benefits are offered through plans maintained by Church Pension Group Services Corporation (doing business as The Episcopal Church Medical Trust), 19 East 34th Street, New York, NY 10016.
The Episcopal Church Medical Trust Disclaimer
Unless otherwise noted, websites referenced herein that are outside the www.cpg.org domain are not associated with The Church Pension Fund and its affiliates (collectively, the Church Pension Group) and the Church Pension Group is not responsible for the content of any such websites.