Your Role as a Healthcare Consumer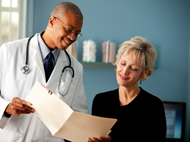 When you or a family member are undergoing medical procedures, you may not know the questions to ask the doctor. Or, you may need some assistance in selecting a physician. The following is a list of suggested questions to help you select a doctor and questions to ask during treatment. They'll help you gain a better understanding of the situation and the treatment that is being recommended, so you can partner with your doctor in making decisions that impact your health.
What You Should Ask
Do You Still Have Questions?
One important benefit that all healthcare plans provided by the Medical Trust offer is Health Advocate. This resource can help you:
Understand the questions to ask about your treatment
Find a doctor or specialist
Get a second opinion
Resolve benefit claims and correct billing mistakes
Research rehabilitation and after-treatment care options
Health Advocate is there to help you. Staffed by medical professionals, Health Advocate will help to answer your questions and understand your situation.
For more details:
Download the Health Advocate brochure.
Sign in to Health Advocate (password: episcopal).
Call (866) 695-8622, 24 hours a day, 7 days a week. Normal business hours are Monday through Friday, 8:00AM - 9:00PM ET.
Health benefits are offered through plans maintained by Church Pension Group Services Corporation (doing business as The Episcopal Church Medical Trust), 19 East 34th Street, New York, NY 10016.
The Episcopal Church Medical Trust Disclaimer
Neither The Church Pension Fund nor any of its affiliates (collectively, "CPG") is responsible for the content, performance, or security of any website referenced herein that is outside the www.cpg.org domain or that is not otherwise associated with a CPG entity.