Life Changes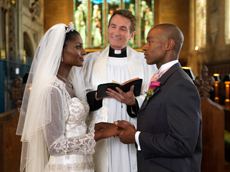 Be sure to notify The Church Pension Fund as soon as possible of any changes related to your beneficiaries.
Marriage and Children
You may wish to name your new spouse and children as beneficiaries of:
Divorce
A Qualified Domestic Relations Order (QDRO) gives your former spouse the right to receive all or a portion of your pension benefits.
A QDRO has tax and legal benefits – discuss this with your lawyer.
You should have your QDRO approved by Fidelity Investments. See QDRO Procedures and Model - RSVP & Lay DC Plan for details.
We cannot provide information regarding your pension benefits to a third party unless you execute a Consent Form.
Call the Benefit Services Center at (877) 208-0092 with any questions.